We offer packaging merchants and the packaging industry an extensive portfolio of general purpose bags from stock, including food grade polythene bags and liners, as well as a range of grip-seal bags in clear polythene, also available in virgin food grade material.
Made to BRC food safety standards, all of the food bags are manufactured from virgin food grade polymers, with options ranging from base weld or side weld, captive flap, through to double seal for extra security, all aimed at keeping the food fresh and free from contamination.
Our specialist packaging division also offers a comprehensive range of clear polythene grip-seal bags, all in virgin food grade material, with or without write on panels. The re-sealable, re-usable and recyclable grip-seal bags are available in a range of bespoke colour and print options. In addition to their use for food products, the grip-seal range is ideal for the secure containment of items such as stationery, hardware and similar products that need to be protected from dirt and moisture.
For more information on these specialist products see our dedicated brochure: 'The answer is clear'. Alternatively, speak to a member of our sales team who will be happy to quote against samples supplied or advise on the most suitable product to meet your specific needs.
Our portfolio includes a number of products with very specific applications, which cannot be conveniently pigeon-holed within our extensive bag and sacks
portfolio. These include industrial products such as protective sheeting, pallet covers and grain and feed sacks, as well as specialist items such as dog waste sacks, carrier bags and Cromwell's own porous, low density polythene, specially formulated for the horticulture market.
CPR Manufacturing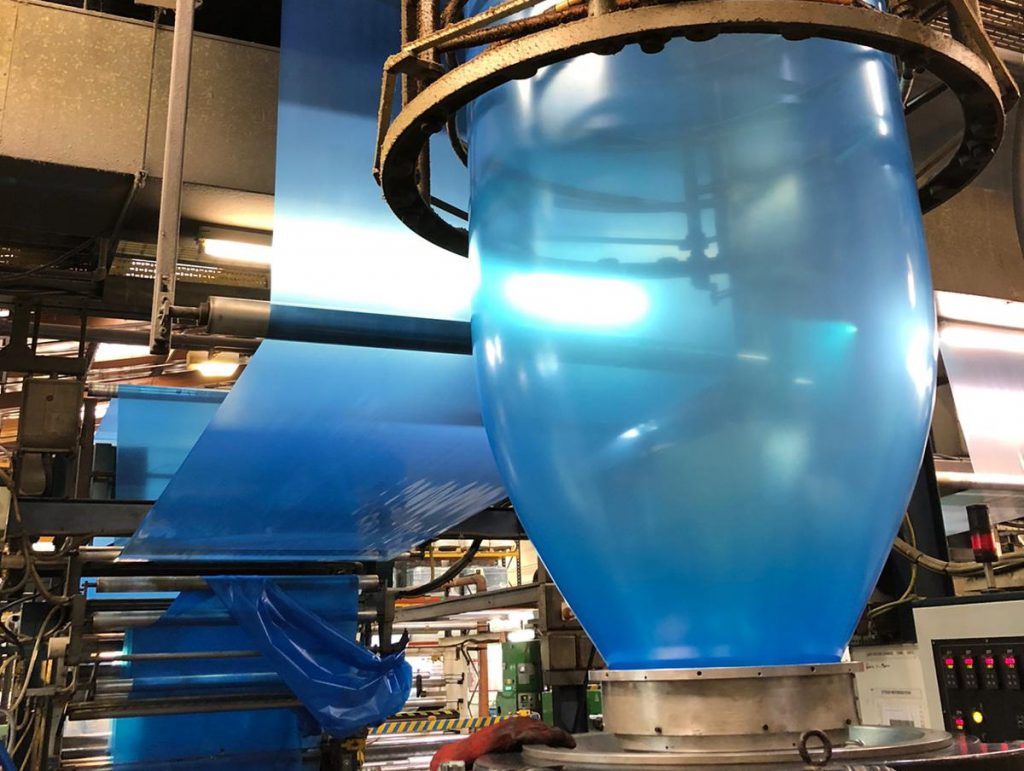 In January 2020 Cromwell Polythene Ltd. expanded its UK manufacturing and recycling base with the acquisition of Moorgreen Flexible Packaging, a long-established recycling and extrusion facility based in Alfreton, Derbyshire.
Originally renamed Cromwell Plastics Recycling Ltd, and then later CPR Manufacturing the site has increased the group's capacity to recover and reprocess scrap polythene, furthering its ambitions to stimulate the circular economy of resources.
The move compliments Cromwell's existing Polythene Recovery Service which facilitates the collection of scrap polythene from customers and ensures resources are kept within the UK. Recovered material is recycled on-site and extruded into more film, increasing the recycled content of the factory's output in line with WRAP guidelines.
CPR Manufacturing produces LDPE, MDPE, linear and compostable films from 150mm to 1600mm, 20-200 μm micron for the industrial, retail, trade, local authority, and healthcare sectors. We can produce 100% recycled films or blends and can run EuCertPlast certified material. Ongoing investment is continually broadening the range of products which currently includes: LFT, CFS, SWS, DWS, with the option of registered printing, and conversion to bags on a roll and in flat packs.
Recycling Process:
Film Extrusion
Bag Making
Production of Sansafe® liners with 30% UK-recycled PE:
Tel: 01773 835731
Address: Dunsford Road, Meadow Lane Industrial Estate, Alfreton DE55 7RH
Enquiry Form
Click the green "Enquire" cross next to any of the products above.
When you have all the products you like please finish the form and "Send Enquiry".
Make sure that you complete the form before you leave the page!
Enquiry List
Click the green "Enquire" cross next to any of the products.
Make sure that you complete the form before you leave the page!