No one wants a split waste bag during the summer months as rising temperatures cause unwanted smells to protrude from bags at a faster rate. CHSA rated Bags can prevent this issue.
For almost 4 decades, Cromwell has supplied high-quality products and solutions for the capture and containment of waste and recyclables, in these 40 years, the quality of such products is something which we have never compromised on. To help guarantee this quality and service, we became members of the Cleaning & Hygiene Suppliers Association (CHSA), whose codes of practice provide customers with an assurance of professional conduct, customer service, and quality. We are founding members of the Cleaning & Hygiene Suppliers Association (CHSA) Accreditation Scheme for
Plastic Refuse Sacks, Paul Fleetwood, one of Cromwell's directors is also a council member of the CHSA and has been since 2009.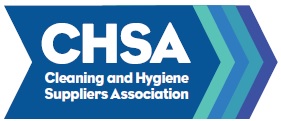 Who are the CHSA?
Run by our members; for our members, the CHSA represents the manufacturers and distributors supplying cleaning and hygiene products in the UK. The CHSA represents more than 200 major manufacturers and distributors, from global multinationals and national networks to privately owned independent businesses.
The organisation gives businesses like ours, a powerful collective voice and keeps them informed and connected through events, seminars, and newsletters.
Committed to the highest standards
The CHSA's standards are very high, and any company that wishes to join the association must match or surpass these standards. Applicants must also pass an initial audit of their product range and all subsequent routine quality checks conducted by an Independent CHSA Inspector, to ensure they maintain the standard required of them to maintain Scheme Membership.
Labels must feature key dimensional information such as length, width, minimum net weight, and the number of sacks
in the pack. It also includes a "fit for purpose" scale, which differentiates between light, medium, heavy, and extra heavy-duty sacks, helping users purchase the most appropriate product for their needs. Sacks are regularly tested using the procedure set out in British Standard 66642 to ensure they will not burst with the loads set out in the standard.
Combined with Cromwell's rigorous Code of Practice, the Schemes guarantee members ethical trade and reassurance that what's on the box is what's in the box.
Why we joined the CHSA
Always committed to quality, the CHSA's match ours, whilst offering a standard guarantee. Aside from the assurance they CHSA provides, they also provide exceptional industry and company support, allowing us to work alongside fellow industry experts, being a part of the CHSA has been invaluable to the development of our business.
Our CHSA Range
Quality is always key for us at Cromwell, and being a part of the CHSA has fully supported this goal.