Compostable bags are made from materials that can be composted in an organic waste environment. Unlike plastic, these are made from natural materials like coffee grounds, cornstarch, or vegetable oil. Our compostable liners are manufactured from Ecopond® biodegradable plastic, using starch and lactide-based derivatives of plant sources, these products are fully compliant with the European composting standard, which requires more than 90% of the plastic mass to convert into biomass,
CO2 and water, with no harmful residue.
When should compostable liners be used!
As a general rule of thumb, compostable liners should be used to capture organic items, such as food or garden waste. For example, you can use a compostable bag to line your food caddy, garden waste bin or composter. Many studies have found compostable bags to minimise plastic contaminants in the food waste stream, increase participation rates, and reduce instances of non-compostable contamination in the food waste collected and processed. The bags are produced from a high-feedstock quality, to help aid the composting process.
How to dispose of compostable liners
Compostable liners are most resource efficient when their end of life is either at home composting or an industrial composting facility. Before committing to compostable liners, make sure you check the compostable liner standards to ensure they are compatible with these disposal methods, you can find out more here. Some AD plants allow compostable liners.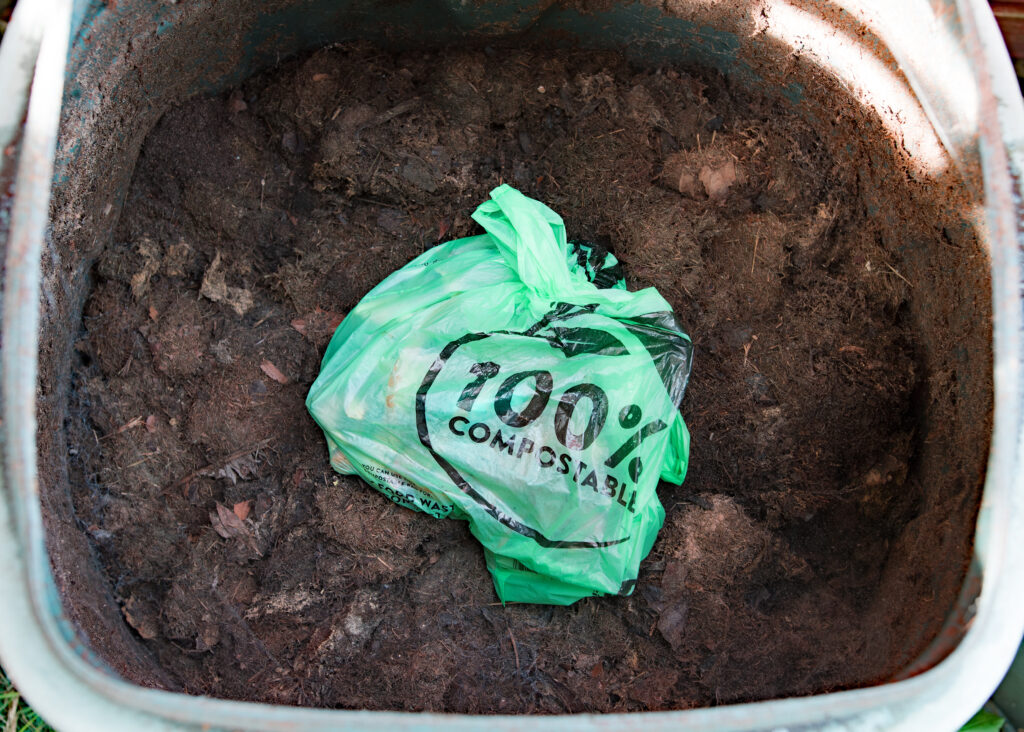 Stick to Organic Environments
Always think organic when it comes to compostables – they should be used in organic environments, such as food and garden waste collections. The bag and contents should be able to degrade together at comparable rates, Cromwell's compostable sacks and liners fully decompose within the normal 6-10 week composting cycle in industrial composting facilities. Talk to us about our compostable range, or which bag is best suited for your application – our expert team will be able to find the best solution for you.