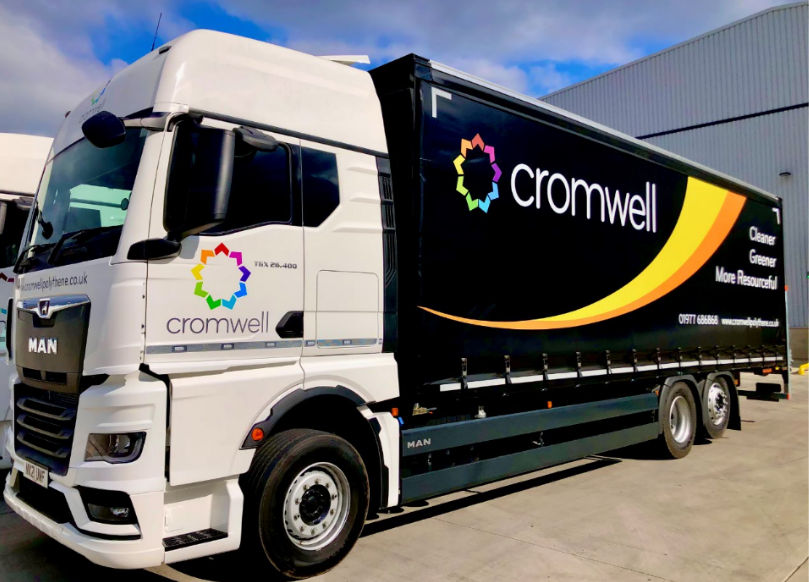 With resource efficiency always at the forefront of everything we do, we ensure all aspects of our work help meet these goals. The latest string to our bow with this is our new fleet range, for the delivery of our responsibly produced polythene products for the capture and containment of waste and recycling. Our new trucks were specifically selected due to their excellent eco-advantages, helping us meet our company mission to be the most resourceful company in plastics, supplying products that help make the world cleaner, greener, and more economical. The MAN TGX is the latest model  from MAN Truck & Bus, one of Europe's leading vehicle manufacturers. . Winning Transport News magazine's prestigious 'Truck of the Year 2021', the next generation TGX model saves up to 8.2 % fuel due to its economic Euro 6d engines, improved aerodynamics and other efficiency-enhancing innovations such as the new rear axle. It was the ideal solution for us.
Our new trucks also incorporate excellent GPS technology which help save on fuel and emissions costs. The GPS-supported cruise control analyses the route and automatically calculates the most efficient driving style and speed, ensuring a fast  and efficient journey. When it comes to the technical engine aspects, the new vehicles offer up to 80 kg more payload, an additional engine output of 10 HP and a higher torque of +100 Nm.
Other features of the trucks include newly designed cabs – with outstanding ergonomics providing improved comfort and a better driving experience for our drivers. . The vehicles have additional features including a roof retractable load securing net system. This new netting is attached around the load to help keep the supplies secure, safe and in place during the journey. It helps to prevent any damages, meaning no product wastage, and keeps the loads secured in one place.
These eco-efficient trucks are the first of their kind in the UK. They the latest model of the same exceptional truck we have previously had, with new Euro6D engines which are more economical and give fewer emissions, to meet current EUROVI and proposed EUROVII emissions regulations . This latest technology helps us to reduce our environmental impact whilst delivering our resource-efficient products. The vehicles are also used to return used polythene back to the production cycle for reprocessing and recycling in the UK, via our Polythene Recovery Service. Collected from our customers on a back-load basis, these valuable resources are made into new products at our CPR Manufacturing site.
With a fresh Cromwell Polythene design, these new trucks are now out on the roads – driving resource efficiency forward.