This year Cromwell will be celebrating 40 years in business – a lot of happened in the past 4 decades, but one thing we have always enjoyed is attending the annual Cleaning Show Exhibition. It was almost half a lifetime ago for us (2 decades) since we exhibited at our 1st ever Cleaning Show, and since then it has been an event that is marked in our diary each year. Alternating between Manchester and London, this March we will be back at the capital at the London ExCeL on event days 14th – 16th. This year, however, we will be back with a bang – as we debuted some brand new Cromwell innovations on our stand A19.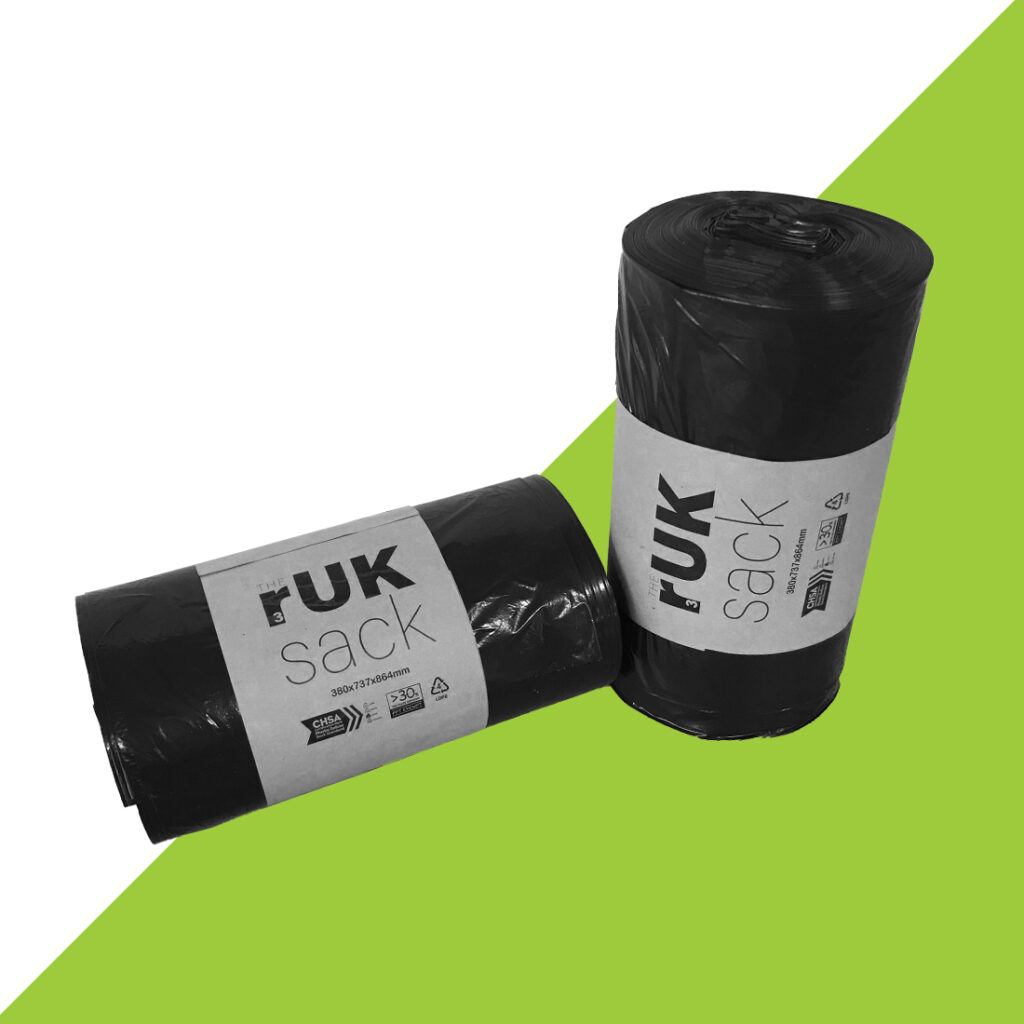 The Launch of The rUK Sack
One thing we take great pride in is our continuous innovation and product – as customer needs change and the world adapts, so do we at Cromwell and the products we offer. As such we are very pleased to introduce the brand new 'The rUK Sack®' to our portfolio, the thing that makes the rUK Sack® different is that it is a refuse sack that has been recovered, recycled, and repurposed entirely in the UK, in our own Derbyshire based factory.
Alex Lee, Cromwell Commercial Director describes The rUK Sack® as a "brilliant new addition to the current refuse and compacter sack offering because it is designed to stimulate domestic recycling and promote UK manufacturing, saving valuable recycled material from being shipped overseas. As well as being made from over 97% UK recycled material, these waste bags are designed to withstand rough treatment in most applications, manufactured with a star bottom weld for maximum strength and consistent performance. The bags are also CHSA accredited, adding extra value with an industry-leading guarantee that what's on the box is in the box".
The new on-the-roll refuse sack will see its official launch at the Cleaning Show, where samples and product information sheets will be ready to be handed out to stand A19. Be one of the first to grab a sample of this new bag by heading to our stand.
Fresh New Look
Our range is not the only thing that has had an upgrade – our exhibition stand also has a fresh new look, which we will be showcasing for the first time at the ExCeL. The new stand comprised of our refreshed look using our colourful branding and new photography which was captured in Summer of last year. It showcases every side of Cromwell, so you can see just from a glance exactly what we do, and our company missions – we will be hard to miss!
With the new stand also comes our revamped literature packs and information sheets, containing the same great detail just with a fresh new look – again encompassing our elevated branding. These will be available on our stand alongside some samples from our extensive range of waste capture and containment products.
Come have a 'rubbish' chat
Paul Fleetwood, Darren Kitchiner, Adam Marchant, and Tom Canner are flying the Cromwell flag on stand A19, we are right beside the Conference Zone. Swing by for a chat, advice, a product samples, or guidance, and of course see our new stand and r.UK Sack is on display! The team will be at the show from March 14th through to 16th – we hope to see you there! Register as a visitor today.