Customer demand and developments within the industry, alongside our own company mission and values, means that we are continuously focusing on making improvements to our product range. Whether this is improving the current waste sacks we offer, or introducing new ones into the market – innovation is always at the forefront of our minds.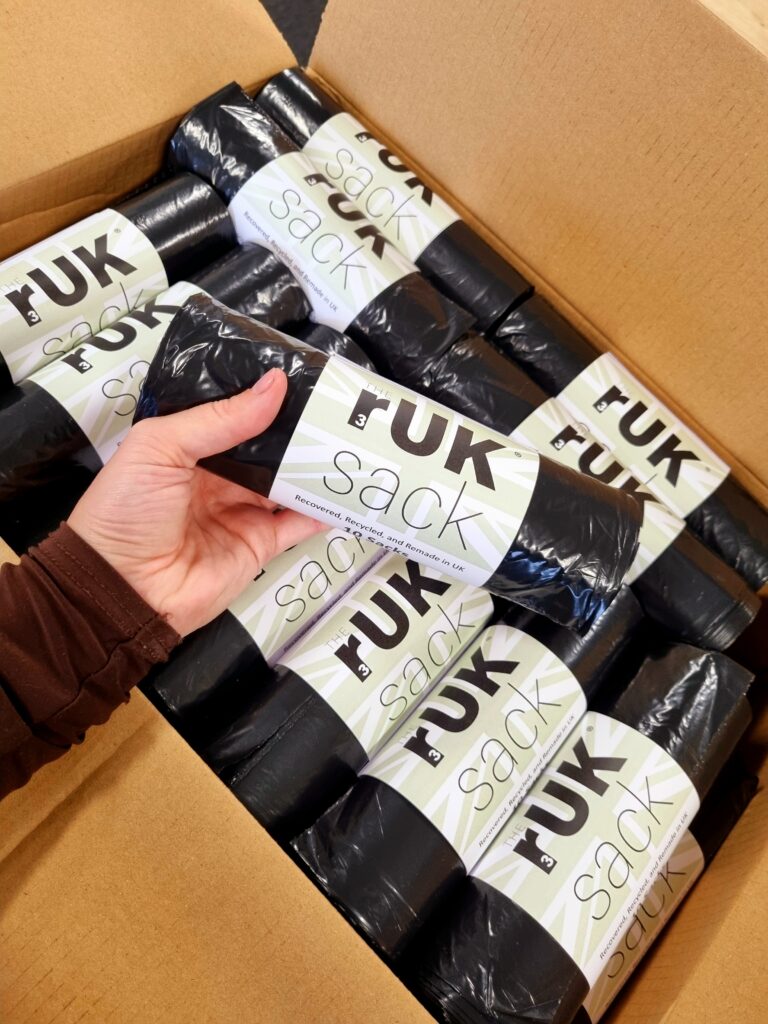 Exclusive to Cromwell and new for 2023, The rUK Sack® is the latest innovation in our product offerings. With the heightened demand for products made from recycled content, and made in the UK, we are pleased to bring this new range to the market. The new range was developed with quality and recyclability in mind, and fully supports our efforts towards a more circular economy and be cleaner, greener and more resourceful.
These sacks have been manufactured in our Derbyshire-based factory, made from up to 100% recycled content, which we have recovered from businesses within the UK. This will cut out the need for materials to be shipped from overseas to produce these bags. It also allows us the re-purpose the polythene which we have recovered for recycling.
With the implementation of the Plastic Packaging Tax last year, the demand for products made from recycled material has soared. In order to be PPT compliant, they must contain at least 30% recycled content, our rUK Sacks, go even further containing 97% – 100% recycled material.
Currently, the rUK Sack range contains both black and natural refuse sacks, compactor sacks, and wheelie liners. However what makes them different from other products within our range is that the rUK Sacks® are premium bags, intended to withstand rough treatment in most applications. These bags have been manufactured with a star bottom weld, and strength and performance consistency are improved as well as giving a neater roll appearance, which itself has a recycled and recyclable band roll.
To ensure a complete performance guarantee, these bags are also CHSA accredited. This leading industry accreditation is already a standard for the majority of our products across our ranges and provides the end user the assurance that what is on the box is in the box. Providing both quality and performance guaranteed.
These bags have already been shortlisted for an award, before even being launched. They will debut at this year's London Cleaning Show, where samples will be available and rolls on display to showcase the incredible quality of these new products. Come by and see us on stand A19, or if your not heading to the show, contact our team today for your own free sample.
The rUK Sack® – Recovered, Recycled, and Repurposed in the UK.