Over our 4 decades in the waste management industry, we have seen a wealth of developments throughout the sector. As the importance of recycling and good waste management becomes more widely recognised, our industry has had to adapt to growth in this demand. Sustainability is now a driving force within not just our industry but across the globe, we as a company are trying to do the best we can to become a more sustainable and resourceful business. This being said, we are delighted to introduce our latest innovation: The rUK Sack® – our most resource efficient refuse sack to date.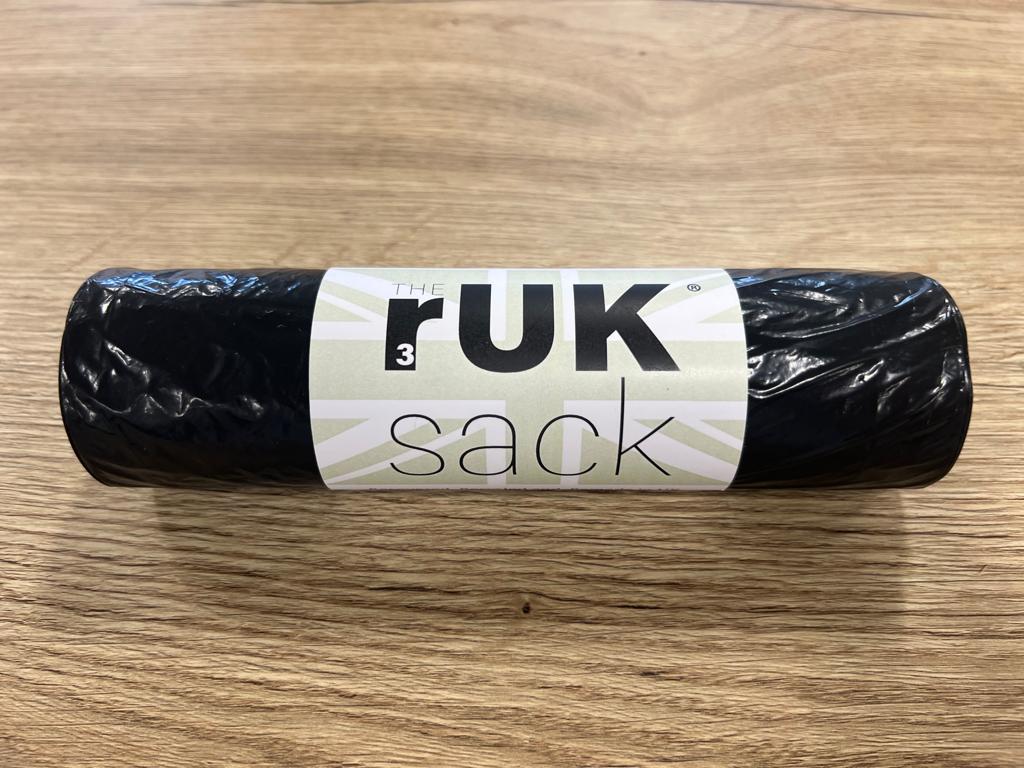 Whilst all of our products have environmentally beneficial credentials, the rUK Sack® takes resource efficiency to the next level. Encapsulating the "Three R's" of recycling – Reduce, Reuse, Recycle. The rUK Sack® is produced from recycled plastic film recovered, recycled and repurposed in the UK. The bags are also manufactured in Cromwell's Derbyshire-based factory, CPR Manufacturing. The use of recycled contents and production in the UK allows us to support a more circular economy by keeping valuable resources in circulation and saving recycled material from being shipped overseas.
These bags range from being made from 97% – 100% recycled content, enabling them to be fully Plastic Packaging Tax compliant. The bag itself is also fully recyclable through appropriate 'soft plastic recycling' collections after usage, fully closing the loop on a circular product. These waste bags are designed to withstand rough treatment in most applications, manufactured with a star bottom weld for maximum strength and consistent performance. The bags are also CHSA accredited, adding extra value with an industry-leading guarantee that what's on the box is in the box". The bandroll on these bags which helps them keep together is also made from recycled paper, which is also recyclable.
Alex Lee, Commercial Director, who worked very closely with our in-house team to develop this product stated 'The rUK Sack® is an excellent new addition to any current refuse and compacter sack offering because it is designed to stimulate domestic recycling and promote UK manufacturing, saving valuable recycled material from being shipped overseas.
The milestone product launch coincides with our 40-year anniversary, and as such, we wanted to showcase the product at an event where industry experts would be there to join in our journey – The London Cleaning Show. The exhibition is the perfect platform to exhibit this new innovation, on our stand A19. We have attended the Cleaning Show for many years, and are looking forward to returning to the ExCeL, London, for this year's event on March 14th-16th, equipt with rUK Sacks in hand.
The rUK® Sack samples are ready and available now, get in touch with us today and be one of the first to grab this recycled and recyclable refuse sack. Our most circular product yet, made in our own manufacturing facility, they are made with resource efficiency in mind, join the circular movement with the rUK Sack®.