This month we are taking a more in-depth focus on the subject of food waste. Sadly food waste seems to be a neglectful waste type, and many people are often unaware that food can be recycled. Highlighting the awareness of this type of recycling is something we aim to raise, to help increase.
Food waste recycling is becoming a popular waste collection strategy in your household recycling, with more and more local authorities now offering such collection services to their residents. Alongside your paper, plastic, glass, and garden waste collections, now food waste has become a collectible waste type. Just like for the other types of waste collected, residents are given a bin to collect this rubbish, typically this will be in the form of a kitchen or food caddy.
Nearly all types of food waste is accepted for recycling (except food packaging), the food caddy proves to be a valuable asset within the home. Not only does it help to recycle, but it also frees up space in the general waste bin.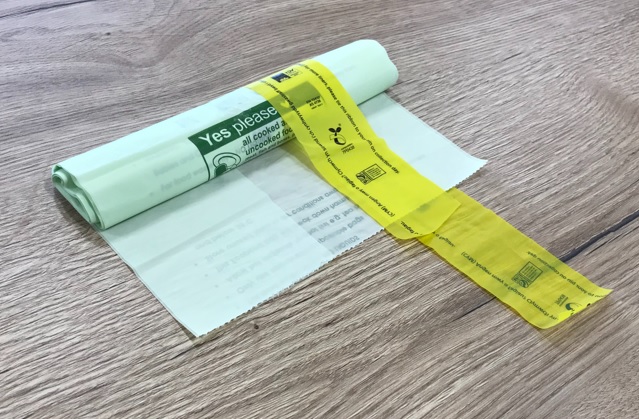 Compostable Liners
Compostable liners are the ideal solution to capture and contain your food waste, due to their bio-degradable advantages, which allows them to break down naturally alongside the waste inside of it – unlike its alternatives paper or polythene. Our compostable liners are manufactured from biodegradable plastic, using starch and lactide-based derivatives of plant sources, these products are fully compliant with the European composting standard (EN13432), which requires more than 90% of the plastic mass to convert into biomass, CO2, and water, with no harmful residue.
Compostable liners have increased in popularity with local authorities, as they have begun to offer the bags to their residents alongside household collections. Whilst the recycling process has been a seemingly streamline one, the re-ordering of bags has often been a hurdle, and Cromwell has implemented a solution in the form of the re-order ribbon.
The re-order ribbon
Exclusive to our compostable range, the re-order ribbon was designed to make the process of replenishing the stock of bags easier for residents, councils, and the waste management team. Residents will receive a roll of compostable bags to line their caddies with, as they near the end of the roll, a yellow ribbon is included – this is used to re-order a new roll. The idea is that when a new roll is needed, the resident will tie this yellow ribbon to the handle of the bin on collection day, this will indicate to the waste team that replenishment is needed, and a new roll can be left for future use. These rolls are also individually wrapped for ease and security.
Benefits:
Brightly coloured re-order ribbon to improve visibility & order remembrance likelihood.
Extended shelf-life with individual roll wrap.
All liners are more likely to be used, due to the access of the ribbon which will minimise wastage.
These combined should maximise the waste collected and participation rate.
The ribbon has been trialed by a number of councils, all of which have given fantastic feedback. Not only have their residents found it beneficial but it has eased the jobs of the waste management team too.
Get in touch today and we can provide you with a free sample of the compostable ribbon.
Read our information pack on why Compostable Liners are the best choice for food waste.