The Cleaning and Hygiene Suppliers Association (CHSA) was established back in 1997, when it began its commitment to quality and service by introducing its first-ever scheme. The CHSA is run by its members who represent the manufacturers and distributors supplying cleaning and hygiene products in the UK. The CHSA represents more than 200 manufacturers and distributors of away-from-home cleaning and hygiene products, from global multinationals and national networks to privately owned independent businesses – Cromwell being a proud member ourselves.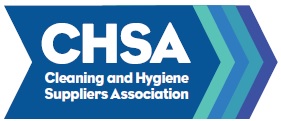 Since its launch, it has added more Schemes and in 2012 the CHSA launched a new scheme, the 'CHSA Accreditation Scheme for Plastic Refuse Sacks'.
Prior to us being founding members of the plastic refuse sack accreditation scheme, we already had a great relationship with CHSA, and our Director Paul Fleetwood had become a council member 3 years prior in 2009.
Any applicants to the new scheme have to pass the initial audit of their product range and existing quality assurance processes conducted by the CHSA's Independent Inspector. They are then audited frequently to ensure they maintain the high standard required. Every member must incorporate new labels that feature key dimensional information such as length, width, minimum net weight, and the number of sacks in the pack.
'What's on the box, is in the box' – this is the customer guarantee the refuse sack which they are using will perform to the standards stated – any bags which do not will not pass the quality test and therefore no CHSA Accreditation can be applied to these products. This proof of quality and performance soon became something that buyers began to look for when purchasing their products, and as such the membership of the CHSA grew and grew.
Aside from the industry-wide assurances the CHSA provide, they also provide exceptional industry knowledge, company support and networking opportunities. Being a part of the CHSA has been invaluable to the development of our business and we look forward to many more years of membership with the Cleaning and Hygiene Suppliers Association and wish them a happy 10-year anniversary of their Plastic Refuse Sack Scheme.
View our CHSA Accredited products here.