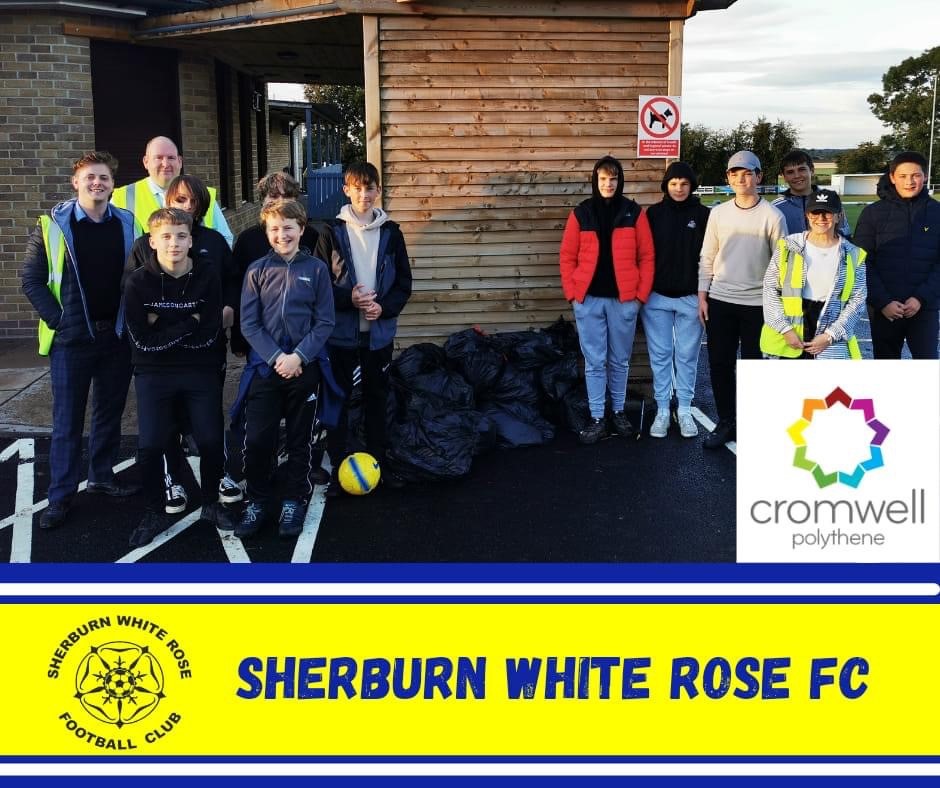 Earlier this year we renewed our sponsorship for another consecutive year with a youth football team from Sherburn White Rose. For several years we have supported the same team, who are now an under 15 squad, funding their kits each year. This year our sponsorship was extended as the team has nearly doubled since last year. This year-on-year sponsorship has allowed us to follow the same team as they have transformed from young boys to young men.
We didn't just want our relationship with the squad to end with the kit funding, instead we were keen to get involved in group activities and attend their games to show our support. We kicked off the 2021/2022 season with a litter pick around the Sherburn White Rose club grounds – clearing up the pitch before the upcoming games. Players, coaches, parents, and staff from Cromwell joined forces equipped with bags and litter pickers ready to do a clear-up.
The kick-off was 5 pm, and with around 20 volunteers on hand, we had a great team for the litter pick. Tackling in and around the pitch, the dug-outs, the back walkways, and the car park of the football club, the area we covered was a good stretch, it also harboured a large amount of litter. The bushes around the pitch edges were particularly bad for waste, with some unusual fly-tipped items found, including our most unique find of a deep-fat-fryer. This was collected amongst cigarette buts, crisps and sweet packets, drinks bottles/cans, and more. An amazing team effort saw 15 bags of litter being collected after an hour of litter picking.
Not only was this a wonderful opportunity to clean up the area in which the team and other squad play, but it was also great to meet the players outside of a game. The pitch and surrounding areas are for now litter-free, ready for their future games – which we are looking forward to attending.
A big thanks to the squad, parents, and coaches for their amazing clean-up efforts.