Cromwell Literature Bank
Welcome to our Cromwell Literature Bank where you can view or download a range of our literature – these information sheets cover a wide range of topics in the waste management and recycling industry and aims to strengthen your knowledge, promote our services and products, whilst educating people on the benefits of plastic as a material.
Food packaging is not only an advantageous addition but also a necessary requirement for some items. Despite what some may assume, this packaging does have a very significant purpose, and it plays a very important role In many different ways.
Cromwell carried out 5 litter picks during the GB Spring Clean, collecting over 15 bags full of waste, containing over 700 items and weighing more than 15kg. Here are the main offenders.
Keep Britain Tidy's annual GB Spring Clean is fast approaching – the biggest litter pick of the year.
Are you taking part? Here are a few handy tips to help you along the way:
Removing plastics or changing them to alternatives such as paper, glass and cotton is not the answer.
These 'greener' alternatives are actually far worse for the environment.
Many local authorities have begun providing households with a food caddy to capture and contain their food waste, but which bag is best to line these new bins?
Test the recyclability of your waste with the famous 'Scrunch Test'.
It's the most wonderful time of the year, but also the most wasteful. Here are some shocking statistics
about Christmas Waste, accompanied by some tips on how to tackle them.
The correct separation and segregation of your waste could mean the difference between a bin that can be recycled and one which cannot.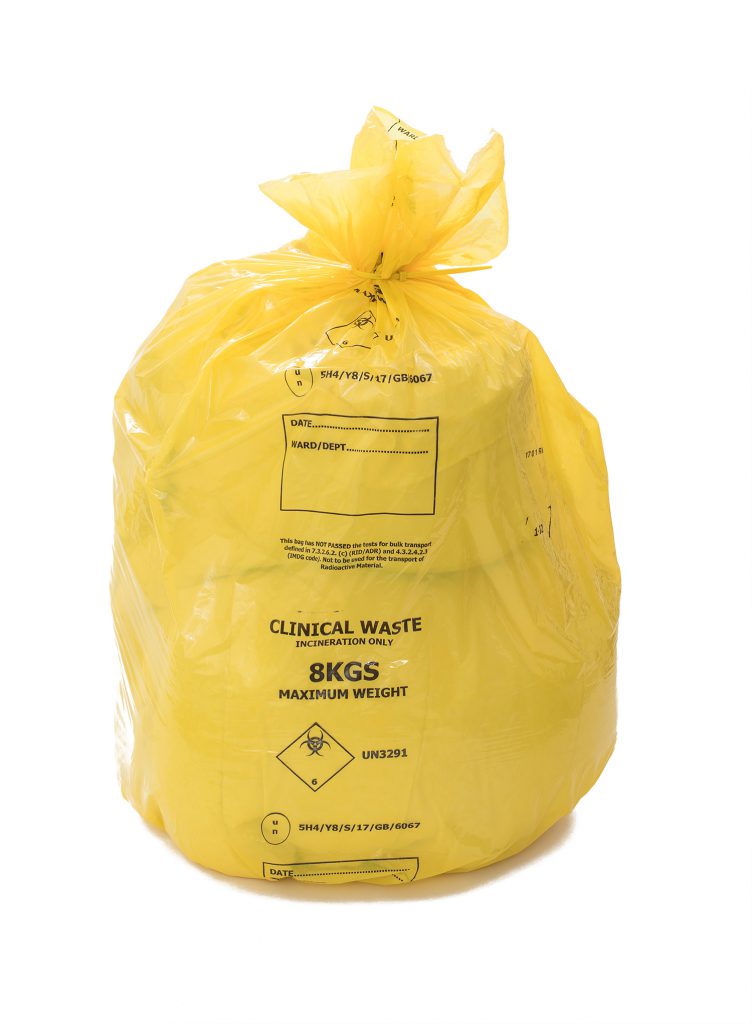 Special consideration is needed when dealing with clinical waste, which requires different treatment and disposal methods, here is our guide of selecting the most appropriate clinical waste bag for your waste.
Food waste is a growing household problem, with 13 billion tonnes of food waste being thrown away from UK homes each year. We have set out 8 easy ways you can reduce your food waste, which will help save the planet and you money!
Plastic provides many benefits across a wide range of sectors, making everyday life cleaner, more hygienic, cost-effective and resource-efficient. This document focuses on the significant impact just a small quantity of plastic packaging can have on the shelf-life of food.

Replacing plastic with other materials such as glass or paper doesn't necessarily make for a straightforward,
environmentally-friendly swap. There are several reasons why plastics are the most sustainable option.
Our free, used polythene recovery service is one way that we help our customers to be more resource-efficient. This document explains how it works.
Plastic Resin Identification Code and the different recycling method logos are explained in this downloadable pdf.
Our LowCO2t products are engineered to provide the maximum performance whilst using minimal resources,  here is how it stands against other products of the same performance.
Depending on how your food is stored, it has the potential to be good enough to eat for a long time after this date. Here's   a guide to a few key food items and how long after the date they can be eaten.
Every local authority has their own kerbside recycling strategies, many of which are very similar. This is a list of basic waste   items that typically can and cannot be recycled.
A great way to preserve food and extend its shelf life is to freeze it down! Many of us purchase food in bulk and by the time   we wish to use them they have gone out of date and need to be disposed of.
Households in the UK throw away around 336,000 tonnes (£140 million worth) of our unwanted clothing and textiles annually, a shocking statistic when you realise almost all of this waste is going straight to landfill. We can put a stop to this wastage in a few easy and often effortless ways.
**NEW** Our Videos / GIFs
International Stop Waste Waste Week (
8 Ways to Reduce Food Waste)
Plastic Resin Codes Explained
Recycling Logos Explained by Cromwell Polythene
Cromwell's Polythene Recovery Service