Spring has sprung, the weather is picking up, the days are getting longer and the nights are getting brighter – and with the new COVID roadmap, there is a light at the end of the tunnel, shining hope for a return to normality. As we return to something more normal, our focus can be re-directed to helping to become more resourceful. More of us are now showing an interest in helping keep the planet a cleaner, greener place – wanting to help make a difference and become a more eco-friendly individual.
Some may go to great lengths, incorporating a 'zero-waste lifestyle, adapting all aspects of their livelihood to help the planet. Now although this is very admirable – it is not a universal lifestyle change. The drastic changes are not something everyone could, or even should do. Even taking a few small steps, making little changes and taking up new low-cost hobbies will help you reach your environmental goals.
Grow your own
Spring is the perfect time to turn your fingers green and get gardening. Most vegetables are first planted in April, ready for the Harvest later in the year. Growing your own fruit and vegetables is not only a great hobby, but it also helps reduce food waste and helps with portion control. When you grow your own, you would only harvest the amount you need at the time, unlike when you purchase from a shop, where you are not in control of the portions and much is often wasted. Plants when just left in the ground will have a far higher shelf life than when cut (like in stores), so if you don't need it – just leave it.
Go one step further and recycle your food waste, peelings and excess in a home composter or caddy – as this breaks down it will create compost which can be used in the planting of your vegetables, closing the recycling loop.
Walk more
As the weather begins to get warmer, and the sun is setting later, many of us will be spending more time outdoors. When travelling, try where we can to leave our cars at home and walk or cycle instead. Walking not only improves your physical and mental health but not travelling by car will also reduce air pollution by lowering the levels of nitrogen oxides which are emitted by vehicles, this will improve both the health of humans and the environment.
Litter Picks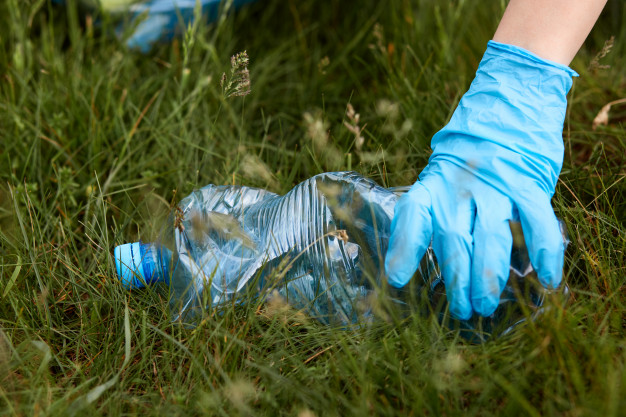 As we are walking more, we could also participate in local litter picks. Litter is an ever-growing issue in almost every area of the world; countrysides, beaches, cities, towns and villages will all be victims of littering. Next time you are out for a walk, take a litter picker or even a pair of gloves and a refuse sack or bin liner and collect any discarded waste which you come across. Small, regular litter picks make a big difference, they prevent litter from entering our water streams, and keep them out of harm's way from wildlife. They will help improve the overall cleanliness of our planet.
You do not have to move mountains to become a 'greener' person, even the smaller actions are all a step in the right directions of achieving a more resourceful planet.