As we near the end of another busy and eventful year, we are taking a look back at some of the highlights that 2021 has presented us with.
We have jumped a few hurdles this year as COVID-19 still affects the world and supply chain issues continue to linger, but amongst the challenges, we have had many amazing successes and achievements.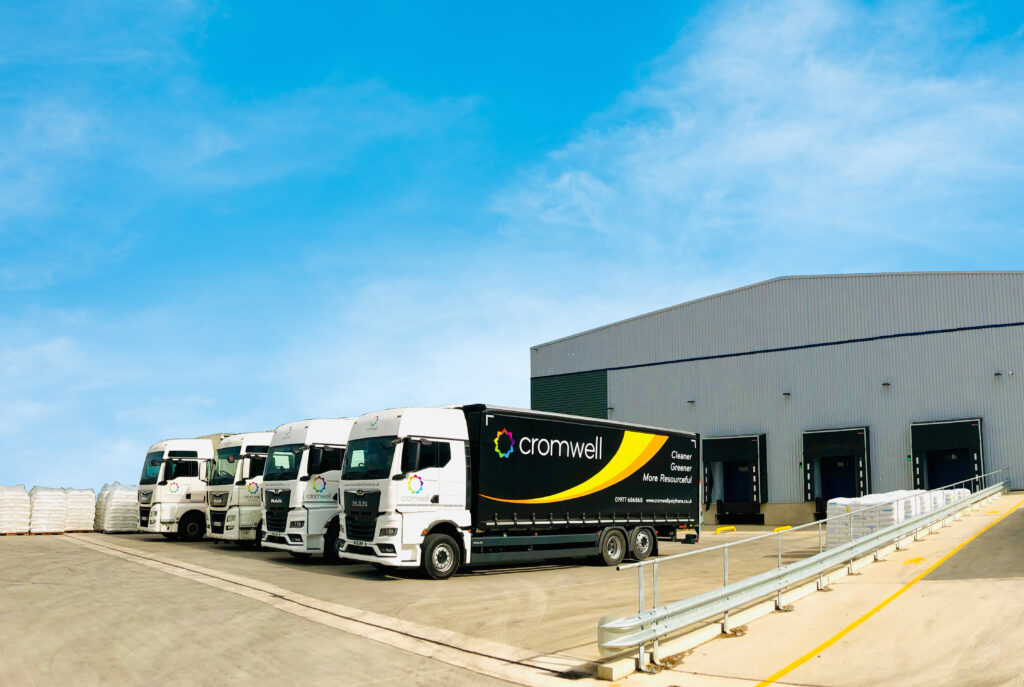 New Eco-Trucks Drive Efficiency
In the first quarter of 2021, we introduced our new fleet range. Not only did these trucks have a branding refresh, but they also harbored innovative eco-qualities. The new truck model saves up to 8.2 % fuel due to its economic Euro 6d engines, improved aerodynamics, and other efficiency-enhancing innovations such as the new rear axle.
Our new trucks also incorporate excellent GPS technology which helps save on fuel and emissions costs. The vehicles have additional features including a roof retractable load securing net system. This new netting is attached around the load to help keep the supplies secure, safe, and in place during the journey – preventing damage to goods and allowing us to fit more pallets on a truck.
Back on the road – Event & Exhibition Success
The COVID restrictions in 2020, resulted in the cancelation of events and exhibitions, but thankfully for us, 2021 was a better year and we were able to attend many of the industry-leading events we had planned.

After almost 2 years, we were able to exhibit at both the Cleaning Show (London) and at RWM (NEC), where our sales team represented Cromwell, engaging with customers both old and new. Alongside these exhibitions, we also were able to visit the LARAC Conference, FPA Golf and Activities Day, Jangro Round Robin, HDCCC, InterPlas, RECOUP Conference, Nationwide Hygiene event and Let's Recycle Live – to name but a few!

It was great to be out networking and catching up with customers and contacts once again – finally seeing some normality resuming after an unpredictable previous year.
Cleaning up with our Litter Picks
Each year our team hit the streets, armed with litter pickers, ready to do a clean-up. Annually, we take part in the GB
Each year our team hit the streets, armed with litter pickers, ready to do a clean-up. Annually, we take part in the GB Spring Clean, organised by Keep Britain Tidy, and the GB Beach Clean, organised by the Marine Conservation Society.

During the GB Spring Clean in May and June, our teams cleaned up 4 different areas, where more than 700 items were collected, in 15 bags that weighed almost 15kg.

The September beach clean, saw our team head to the sandy shores of Filey, tackling a litter pick on the same strip we have cleaned up for the past 4 years. It was great to see a 4-year reduction in the amount of litter collected on this area of the beach.

As well as our usual annual litter picks, we also carried out a clean-up with our sponsored football team, Sherburn White Rose, clearing around the pitch where they train and play.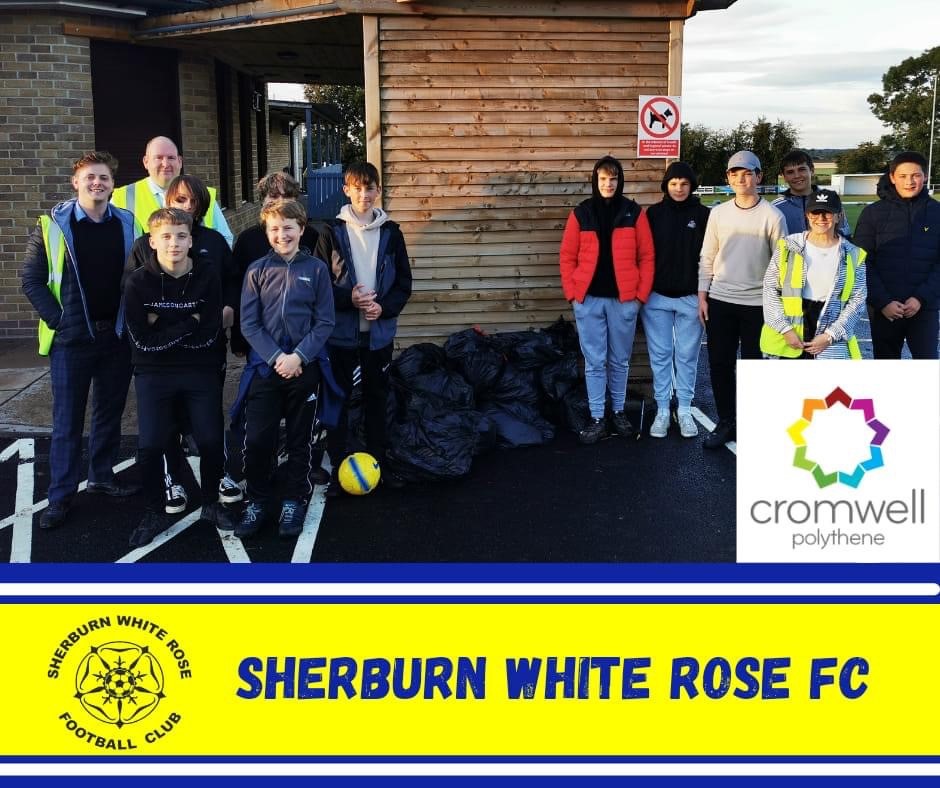 Cromwell Scores Another Years Sponsorship of Sherburn White Rose
For the 4th consecutive year, Cromwell Polythene has sponsored the Junior Sherburn White Rose football team, a local youth team in our area. We have sponsored this team for several years now, and this sponsorship pays for the team's kit – customised with the Cromwell logo.

This year, saw an increase in the number of players, and the growth of it has only strengthened our desire to support them. We also wanted to get involved further so have undertaken litter picks with the team, to help clean up the local community, as well as having plans to carry out an activity day in the near future and attend some games, showing our extended support to the young players.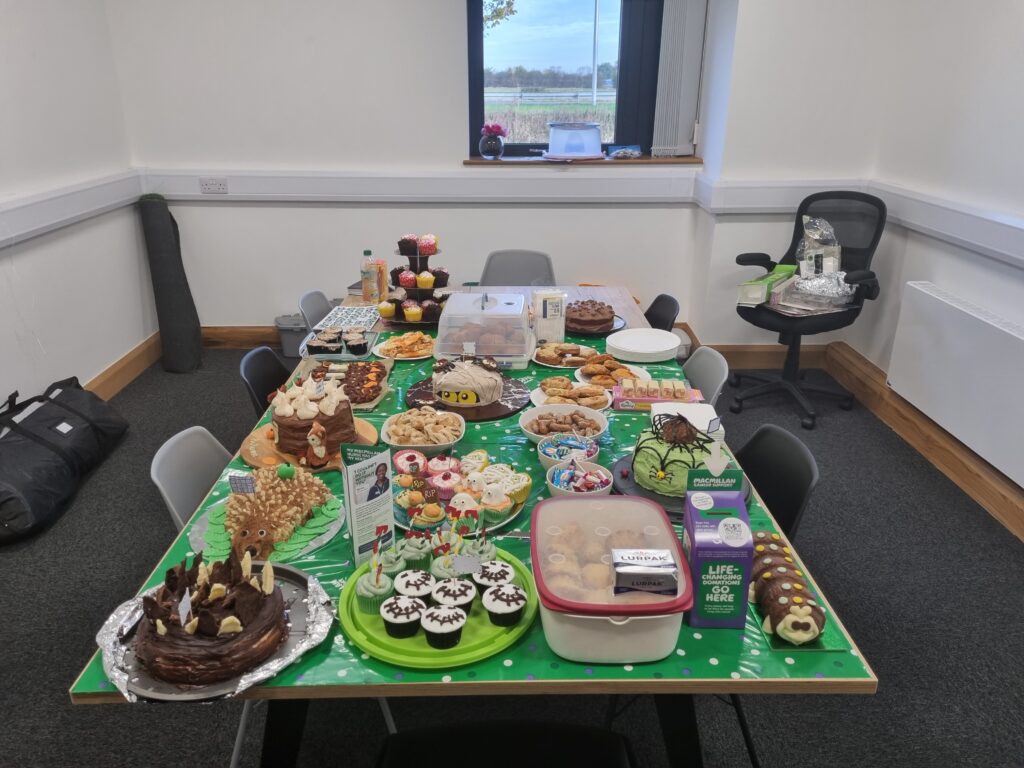 Raising Hundreds For Charity
In early November our team headed to the kitchen and turned their hands to baking, as we held a belated Macmillan Coffee morning 2021 at our Sherburn office. We have held Macmillan Coffee mornings for several years now, helping raise funds for the cancer charity, which is close to many of our employee's hearts.

The bake sale ran throughout the day, and even staff on their holidays and on maternity leave got involved by baking or donating. It was an amazing turn-out and an incredible £206.70 was raised for the Macmillan Cancer Support charity – by far our best amount ever raised.

We also took part in the annual Christmas Jumper Day, where our staff got into the festive spirit by dressing in their best Christmas outfits, whilst also raising funds for the charity 'Crisis'
As we near the end of 2021, we enjoy looking back at the year's successes, whilst also looking forward and planning for the new year ahead. This year has seen huge steps of success for Cromwell, and we hope that 2022 will be just the same, if not better! Thank you all for your continued support – the entire team at Cromwell would like to wish you a very Merry Christmas, and every success in the New Year – we look forward to working alongside you.